IN THE FUTURE, EVERYONE WILL MURDER A BOY BAND MEMBER.
The year is 2050. In a ritzy uptown hotel lies the dead body of Kevin LoveTeam, one quarter of the worldwide boy band phenomenon that is: LoveTeam. To crack the case, homicide detectives McAuley and Prosser must dive deep into the murky world of boy band politics… where nothing is as it seems.

This story takes place in four different futures - four different possibilities for what the world of 2050 might look like. The characters are the same, the crime is the same, but in each scenario, the world is very different. In only one of these scenarios is Kevin LoveTeam's murderer brought to justice.

Your job is to make sure we end up in that future.

Part hands-on game, part scenario-planning exercise and part gritty crime drama, CrimeForce: LoveTeam is a unique reflection on the future of popular culture, music, young people and the justice system.
WHY A BOY BAND?
For at least 70 years, the boy band industry has been a constant. Many things may come and go, but we can be certain that in 2050 there will still be groups of attractive singing and dancing young men marketed to young women en masse.
WHY A POLICE PROCEDURAL?
The time-honoured police procedural format offers us a cross-section of future society. As the police follow the trail from the wealthy elite to the criminal underbelly, the genre acts as a scaffolding from which to hang more complex discussions of the future.
HOW DOES IT WORK?
Audiences experience the story of the police investigation through a combination of live performance, pre-filmed sequences, audio design and custom-drawn storyboards.

At key moments, audiences make decisions in the present day, from questions around genetic profiling to questions of art production.

We follow the consequences of these decisions as they echo through future generations, all the way to their impact on homicide investigations in 2050.

What choices will you make today to give the police in 30 years the best chance of catching a boy band killer?
PROJECT HISTORY
CrimeForce: LoveTeam was researched and developed with support from the City of Melbourne Creative Spaces program.

The first season of CrimeForce took place as part of the 2018 FutureFest in London, with thanks to Nesta.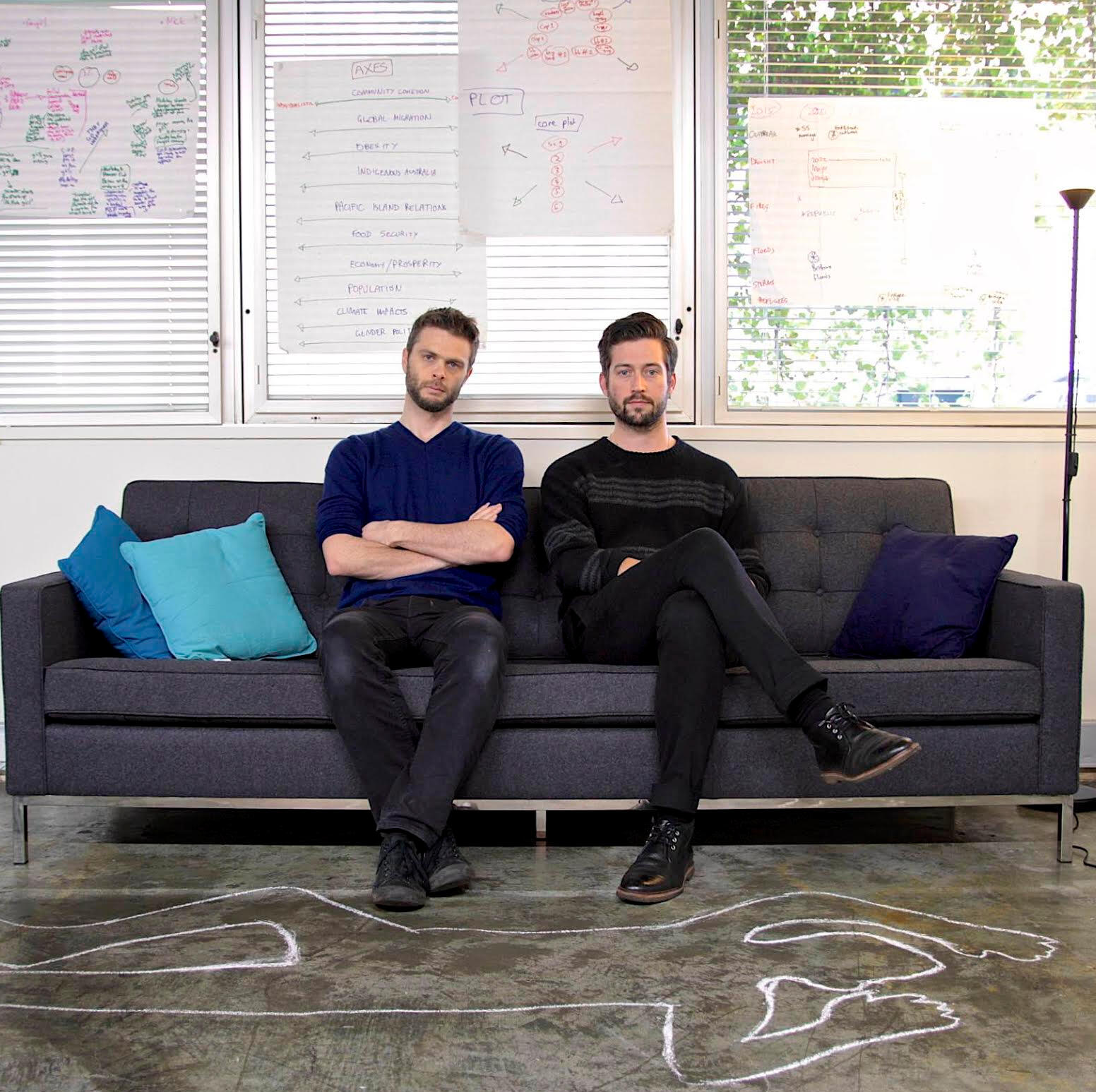 ABOUT THE ARTISTS
David Finnigan is an Australian writer and theatre artist. Working with research scientists in the UK, Australia and Sweden, he creates work exploring climate and systems science. David is a Churchill Fellow and an Australia Council Early Career Fellow.

Jordan Prosser is a Melbourne-based filmmaker, theatre-maker and performer, and a graduate of the Victorian College of the Arts. His short films have screened at numerous festivals both locally and internationally.

Written and performed by Jordan Prosser and David Finnigan
Original music by Nick McCorriston
Artwork by Sacha Bryning
---
FUTURES THINKING
It's hard to think about the future. Hard enough to think about the world of next week, let alone the world in 20 or 50 years time.

For the last few decades, practitioners in the field of Future Studies have been developing methods to help us better think and plan for the future.

CrimeForce: LoveTeam examines one of those methods: the practice of creating future scenarios. These are imagined visions of how the world might look at a particular point in time.

The point of this practice is not to predict the future, but rather to help shape it in a more informed way. These scenarios aren't meant to be accurate, or "correct". Instead, the idea is to imagine best and worst cases, averages and extremes.

Rather than creating one single scenario, futures instead create a set of scenarios, a range of possible futures that embody the various ways our society might go.

This is what futurists call the 'scenaric stance' - holding multiple futures in view simultaneously. The idea is that it gives you greater emotional and intellectual rigour when considering your options in the here and now.

CrimeForce offers a hands-on introduction to the practice of creating future scenarios - an accessible toolkit for anyone seeking to grapple with questions of the future.
CONTACT
If you'd like to know more, or you're interested in hosting a version of CrimeForce at your venue or event, please drop us a line: crimeforceloveteam at gmail dot com.
Text